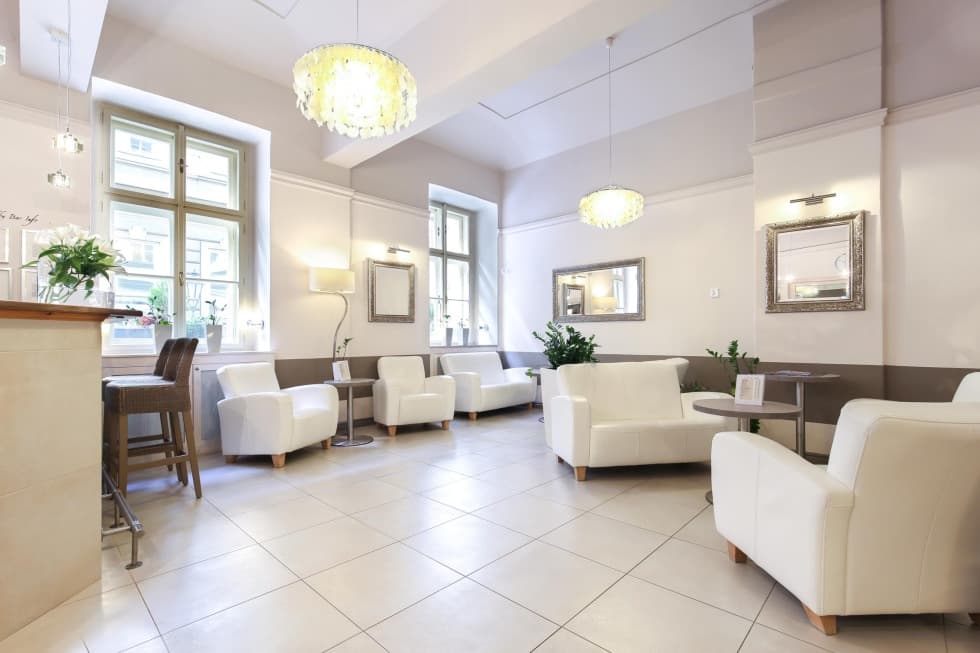 A family hotel in the quaint surroundings of the Old Town
Our hotel is situated on the premises of a former convent in the Old Town. Building on the experience of Pension Unitas which stood here since 1992. For us as a private hotel with long-standing tradition the satisfaction of our guests is of the utmost importance. Thus we take pride in our quality service and personal approach whilst constantly aspiring to offer something more.
Our hotel facilities have been designed to accommodate all modern standards including a restaurant for private events and weddings. You may look forward to free internet connection, air-conditioning, 24-hour reception, secure parking and more. Our rooms are equipped with an LCD television with DVD player, minibar and a safety deposit box.
Our hotel annually achieves excellent ratings on travel portals. We continuously work on the betterment of our hotel and on ensuring the satisfaction of our visitors is an absolute priority.
2019 TripAdvisor Travelers' Choice Awards - #1 Hotel in the Czech Republic
2019 TripAdvisor Travelers' Choice Awards - #14 Hotel in Europe
Your feedback is very valuable to us. Read what our guests had to say about staying in the Unitas Hotel on Tripadvisor .
Founded by the Jesuits at the beginning of the 18th century the building formerly served as a monastery next to the church of Saint Bartholomew. Seventy years after the abolition of the Jesuit order the buildings were gifted to the Congregation of the Grey Sisters of Saint Francis in order to conduct their charitable work. It remained this way for another hundred years up until the year 1950. With the rise of the communist regime in Czechoslovakia the whole complex was seized by the State secret service. They converted the premises into their headquarters, prison and a shooting range. Among the incarcerated was the future Czech president Vaclav Havel.
In the year 1992 the building changed into Pension Unitas as to help the Grey Sisters accumulate the funds needed for the renovation of the building after it was left in ruin by its previous inhabitants. On of the most exciting events of this time was the visit by His Royal Highness Charles the Prince of Wales. The year 2006 was the last year of business for the pension before reconstruction. From the year 2008 here stands the Unitas Hotel ****.